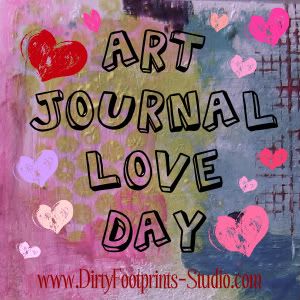 Welcome to the party!!! My friend, Connie Hozvicka of Dirty Footprints Studio, has organized a party to celebrate love -
art journal love!
I'm one of
many
art journalers participating by sharing our love of art journaling AND donating an artful gift! If you'd like to win one of the
19
gifts given,
go here to see the details of how to win
.
Just be sure to do it by Friday, 10pm MST, Feb 18!
I'm telling you there are some AMAZING prizes. Here's mine - it's a chunky sketchbook by Sabrina Ward Harrison for Papaya. It's thick and it's pages are card stock, which means it'll even take paint! Perfect for art journaling!
Before you go, take a look at the art journaling I've done over the past few days. It's done on a ready made book with canvas covers and thick papers with a linen finish. (I'm sorry I can't tell you the maker . . . I'd long ago upcycled the packaging into another project!)
This little book is done "graffiti" style and is filled with my love of sketching women and simple objects . . .
I began by simply swiping on acrylic paints for a colorful background.
Then I "sketched" girlies and such with Sharpie Poster Paint pens.
Spatters of paint flicked off the end of my paint brush and messy marks (sharpie poster pens, more acrylic paint & copic markers) added to the graffiti look.
What graffiti doesn't have a little spray paint - that's made easy with the use of some stencils.
Now .... don't you forget to
go here for the details to win by Friday, 10pm MST, Feb 18
. Comments left here (although I cherish them and encourage you to do so, won't get you into the drawing). Hope I'll soon be sending you a little present....go out and share the LOVE!